2005

TEA AND POMEGRANATES
memoir of food, family and Kashmir
An evening with Nazneen Sheikh
MUNK Centre, 1 Devonshire Place Toronto
Friday November 25th, 2005
6:00-8:00pm
Hosted by: Ghalib Iqbal, Consul General of Pakistan in Toronto
Introduction by: June Callwood

ARTISTS WITHOUT BORDERS
SILENT ART AUCTION & FUND RAISER
FOR VICTIMS OF EARTHQUAKE IN PAKISTAN
October 21, 2005 at Gallery 401, Richmond Street Toronto

28 DONOR ARTISTS, MUSIC & FOOD
28 PICES SOLD INCLUDING PAINTINGS, SCULPTURE AND TAPESTRY
C$5,000.00 COLLECTED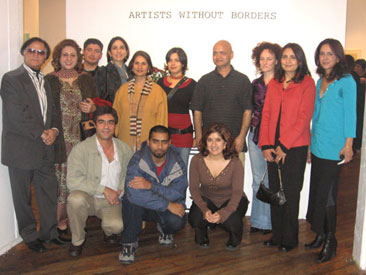 ARTISTS WITHOUT BORDERS FUND RAISING EVENT ARTISTS LINE UP INCLUDED - LUPE RODRIGUEZ - LUC BIHAN - LYLA RYE - SANIYA KHAN - TAHA YASIN - NAUNI KAUR - TAZEEN QAYUM - MEERA SETHI - FRANCIS FIRDENAND - ASMA ARSHAD MAHMOOD - BUSHRA MAHMOOD - J. MURPHY - SAMINA MANSURI - SHAN DHANI - ANGELA PETARDI - AMIN UR RAHMAN - SALEEM KHAN - CYRUS IRANI - GOKCHE ERKAN - UROOJ WAQAR - TUSHAR UNADKAT - GREG SCOBLE - SHAAREZADE ALAM - SHAKIRA MASAUD - ANWER KHURSHID - SHELLY BAHL - SABIHA IMRAN - MONA KAMAL

Cre8iv80studio presented its first fundraising event on Friday, October 21, 2005 under the title of Artists Without Borders. 28 Canadian and International artists donated their artwork to be sold in a silent auction with the sole purpose of donating hundred percent of the proceeds to the victims of recent earthquake in Pakistan. A total of 28 pieces were sold resulting in five thousand dollars including the gate money. The fundraiser took place at the Gallery 401 at Richmond Street in Toronto. The venue was donated by the owner of the gallery Gokche Erkan who further extended his support by donating his artwork as well.
Cre8iv80studio extends its appreciation and gratitude towards all the artists who donated their time and work, the volunteers from SAVAC (especially Nadia Kurd), Gokche Erkan, Lubna Sami of TCS Express, Adil Ali Khan of SAGA, Tahira Haque and the community members who donated very generousley to this cause. Special thanks go to Mr. Kunal of India Garden who donated food items and Door prizes togather with Cuisine of India. Anwer Khurshid of Toronto Sitar School is thanked for his door prizes and live music performance by students of Toronto Sitar School. All other management expenses and costs were absorbed by Cre8iv80studio and TCS Express. Type Morris printed the tickets for this event free of cost.
One hundred percent of revenue was presented in one cheque to The Citizen Foundation of Pakistan TCF, a regiztered charity working for rehabilitation and resettlement of victims of earthquake in Pakistan. This cheque was presented on October 25th within the deadline established by the government of Canada to meet dollar for dollar resulting in a total benefit of ten thousand dollars to the cause

CANADIAN NATIONAL EXHIBITION THE EX-2005
ROYAL ONTARIO MUSEUM
ART GALLERY OF ONTARIO
MISSISSAUGA ARTS COUNCIL showcasing:
Diversity Folk Art
Mary-Anne Longlade School of Dance
Emerald Knights
Museums of Mississauga
Living Arts Centre
Visual Arts Mississauga
Art Gallery of Mississauga
Misssissauga Arts Society
Ontario Regd Music Teachers Assn
Mississauga Arts Council
Sheridan College
Potters Guild
Heritage Mississauga
Viva Mexico
CHILDRENS' ARTS & CRAFTS WORKSHOPS
Approximately 6,000 children attended these workshops.

ROYAL ONTARIO MUSEUM (Friends of South Asia)
Feb 2005
Children's Arts & Crafts Workshops

2004

CANADIAN NATIONAL EXHIBITION
August - September 2004

ACCESSIBLE ART PROJECT
showcasing
ROM
AGO
TACF
TO-TIX

EDUCATION THROUGH ART PROJECT
Children's Arts & Crafts Workshops

CANADIAN INTERNATIONAL ARTISTS FORUM
showcasing 16 artists in on-site interactive sessions
MASALA MEHNDI MASTI AUGUST 6-8
HARBOURFRONT CENTRE, TORONTO
2003


MAZAA MAY, 2003
SOUTH ASIAN HERITAGE MONTH
CANADIAN NATIONAL EXHIBITION AUGUST-SPTEMBER, 2003
THE EX-2003
2002

MASALA MEHNDI MASTI 2002
HARBOURFRONT CENTRE TORONTO